The 2016 ATAC Range Day Registration

The ATAC Range Day will be relocated on 18 January 2016 to Nellis. Registration will be is now open.
The ATAC Range Day™ 2016 is back again for manufacturers, distributors, retailers and others to demonstrated and converse (face time) with end users. Showcasing products and services for unit, department or company purchasing. Also a great time the gathering information/feedback from the end users to assist in product development, testing and general feedback.
The 2016 ATAC Range Day is brought to you by ATAC Global. We would like to give thanks to our Sponsors for their support:

NRA
LaRue Tactical
Action Target
Leupold
Barrett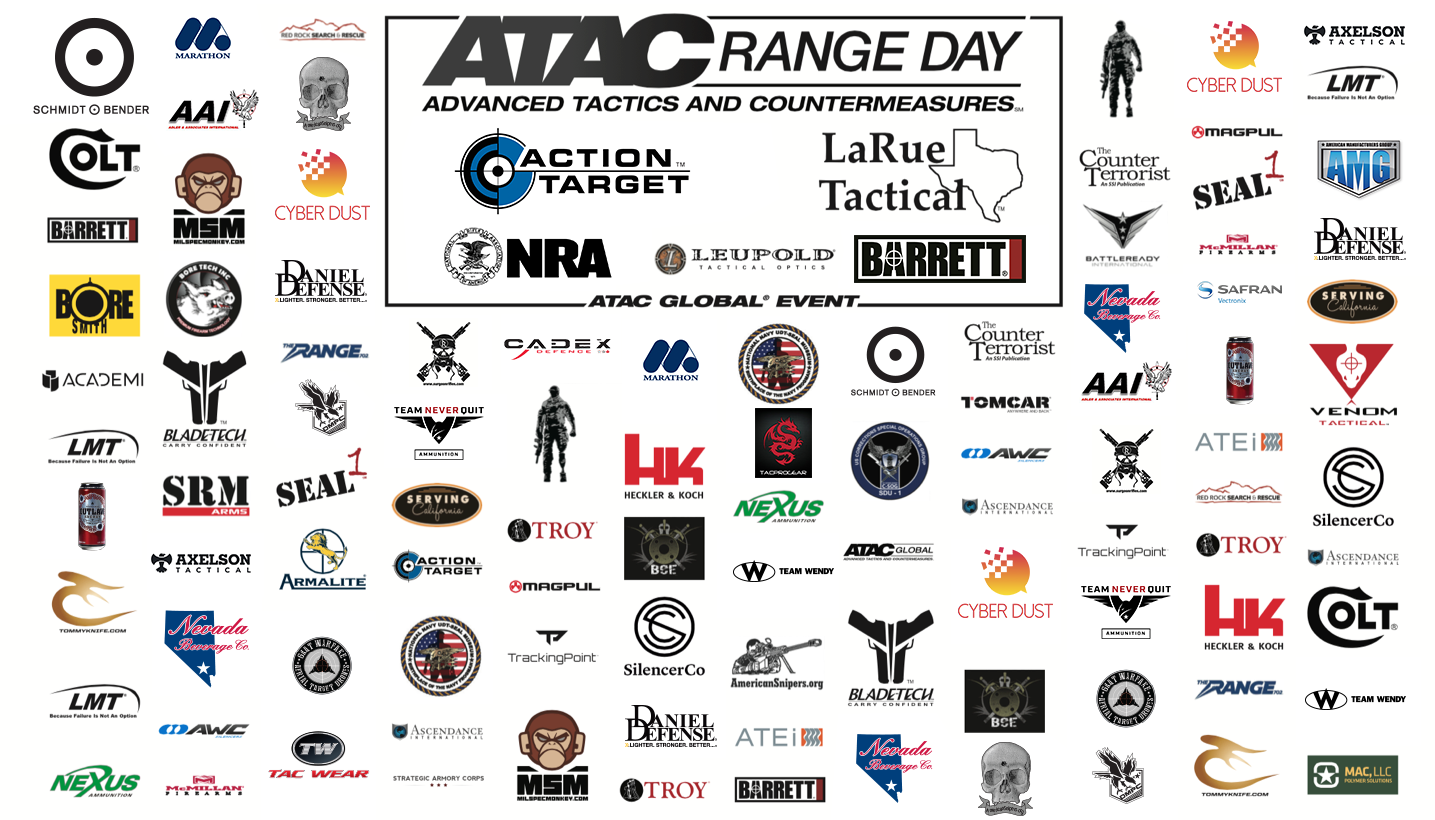 Date, Location and Admission:
Event Date:  Monday 18 January 2016
Event Time:  Start time 1000hours – 1600hrs PST
Event Location:  Nellis AFB
Admission: Requires documentation of a purchased ticket.  Government issued photo identification plus documentation demonstrating trade affiliation.
Directions to the range: The Nellis AFB CATM range is located North of the Nevada Army National Guard complex located at (If using GPS punch in this address) 6400 Range Rd, Las Vegas, NV 89115.
Head north on the I-15 toward Salt Lake City
Take exit 52 onto County Hwy-215 W
Turn left onto County Hwy-215
Turn right onto Range Road
Drive pass the US Army National Guard Center (on your right)
Continue straight ahead (north) until the road comes to a "T". Turn right and continue to the gate.
The 2016 ATAC Range Day is a 21 min (15.3miles) drive from Sands Expo, please see below map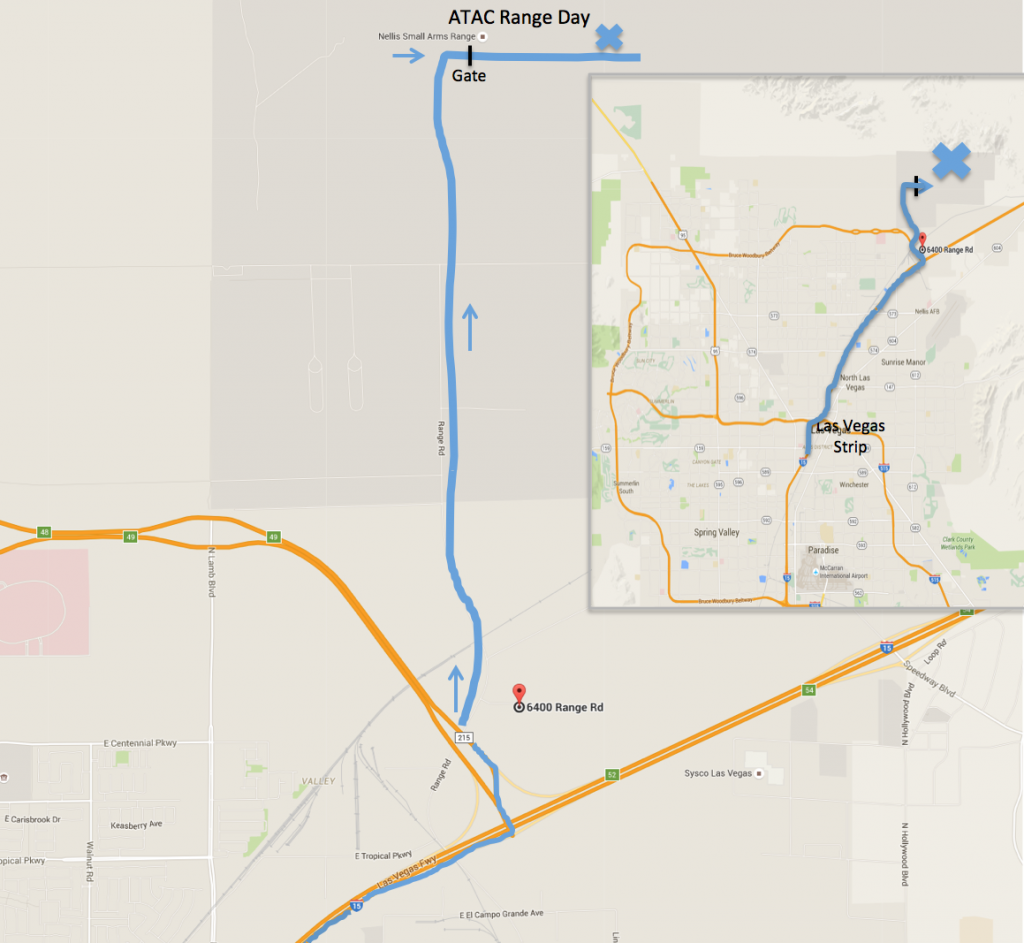 Exhibitors Registration

MUST pre-register no latter than 1 December 2015. Price increase if received after *Locations are on first come first serve basis.
Exhibitors Please ONLY register your company name and email the name(s) of your personnel / staff that will be attending to:  RangeDay@ATACGlobal.com
Ammo, Firearm shipping and receiving Exhibitor Memo will be sent to all registered companies via: E-Mail.
NOTE: All the ranges are going to be a FLAT rate as of 1 December.
Attendee Registration:
Registration for the 2016 ATAC Range Day is now open. Please click on the below to register FREE.  Contractor, Military (active or retired) , Law Enforcement and Trade Representative attend FREE of charge.

Range Setup Information:  Range setup will begin on Sunday, January 17th at 1200 (12:00pm) and will end at sunset and will restart at 0600 (6:00am) on Monday, January 18th. If prior setup is required, please send us a email (RangeDay@ATACGlobal.com) to coordinate the specific setup needs and times. We will have assigned locations for each registered exhibitors, manufacturer and dealer to set up their range location. Paper targets are complimentary, if needed on the 50yd deep bays.  All may and are encouraged to bring some kind of sign that will identify the company being represented at their specific location on the range. Tables and chairs will be available, along with other logistical needs however they will be limited in numbers. Exhibitors, Manufacturers and Dealers are encouraged to bring their own marketing material.
Restrictions:  Due to aircraft flying overhead and adjacent to these ranges .50 Cal will not be permitted.
Shipping and return of weapons, ammo and products?  The Range 702 is a licensed FFL which you can send your items in and also pick up. Please maintain your FFL paperwork when picking up and during the range day. *Please put ATTN: ATAC Range Day on all boxes/items being shipped.
Ship To and Pick Up:  The Range 702   5999 Dean Martin Dr.   Las Vegas, NV 89118
Steel Targets:  Targets are supplied by our Sponsors, LaRue Tactical and Action Targets.
LaRue Tactical Sniper Targets are the most reliable and portable automatic sniper targets on the market. They are precisely manufactured from high quality materials, and will survive the toughest environments and the roughest treatment. LaRue has supplied Sniper Targets for elite military/law enforcement sniper training world-wide. LaRue targets are battery powered and will cycle through approximately 1,800 down and up cycles before requiring a recharge. After being hit, the target returns  to the upright position and automatically shuts off until the  silhouette is again hit and knocked down, resulting in  long battery life. LaRue targets are weatherproof and can be left outdoors without damage. Users have reported leaving LaRue targets exposed to the weather for over a year without affecting their operation.
Action Target is a privately owned business headquartered in Provo, Utah, that provides a complete solution for military, law enforcement, and commercial shooting ranges. From initial consulting and range design to manufacturing, installation, and servicing, Action Target manages the entire process and has built thousands of shooting ranges across the Unites States and in 35 other countries around the world. The company is also well known for its quality steel targets which are designed to be portable, durable, and safe. This year, Action Target one of two official target partners of ATAC Range Day and will be providing targets for all exhibitors at the event. Exhibitors who wish to speak directly a Action Target representative to best accommodate your range lane/bay for the 2016 ATAC Range Day please e-mail us at RangeDay@ATACGlobal.com
Ammunition:  Please let us know if you will be needed ammo rather than shipping it?
Exhibitors, Manufacturers and Dealers:  Gate opens at 0600 (6:00am) on 18 Monday, January 2016 to sign in, set up and other administrative duties. Guests will arrive at 0900 (9:00am). This will allow enough time for everyone to be prepared for the guests. Please remember to bring all necessary BATF forms and documentation.
Military, Contractor and Law Enforcement:  Free admission and sign up will take place the first week in December, we will keep you posted through e-mail.
Media Credentialing:  Please provide previous media credentialing at an established company validated by record of print, broadcast, cable or web-based coverage military, contractor, law enforcement and maritime. Media coverage of the ATAC Range day is strictly enforced to protect the people in the attendance. While some may think it is harmless to take a photo at a vendors booth, it can be harmful to those in the back drop who do not wish to be in photos. To protect and respect the integrity of the people in attendance, these rules will be strictly enforced. Please read more here:    Media Credentialing
Media Credential Application Form Here:   Media Credential Application
2016 ATAC Range Day (Range Bays) Description:

Non-Shooting Interior table/booth or Exterior table/booth
Shooting Range #1 Sun shade over a concrete pad, max cal. is 7.62 to a distance of 4300 m.
Shooting Range #2 Three-sided building on a concrete pad, max call is 5.56 to a distance of 3600 m.
Shooting Range #3 Concrete pad (uncovered) max cal. is 40mm to a distance of 600 m.
Shooting Range #4 Three-sided building over a concrete pad, max cal. is 5.56 to a distance of 3600 m
Shooting Range #5 Concrete pad (uncovered), max cal. is 7.62 to a distance of 4600 m. This is a known distance range with berms located at 100 yd. increments out to 600 yds.
Show Trailers
Co-Sponsor – Contact us
Sponsor – Contact us
MEDIA Representative
Method of Payment:
Please complete and return (send to RangeDay@ATACGlobal.com) the Credit Card Application Form Here:   Credit Card Authorization Form
To register online, please follow the link below: (A 3.6% surcharge will be applied when paying with a credit card)
Food and Beverages:  We have a variety of options for breakfast, lunch and food/drinks throughout the day.

Menu
Brisket Wraps
Sausage Wraps
Chips (All kinds of assorted small bags)
Condiments
BBQ Sauce
Mustard
Diced Onions
Jalepenos
Relish
Drinks:
Canned Sodas
Bottled Water
Coffee
ATAC Range Day General Information:
For any additional questions please contact:  RangeDay@ATACGlobal.com