9-11 White Heart Ride to the Flags to honor veterans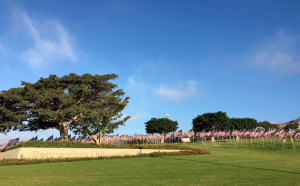 On September 11th 2016, Tom Clarke and Tony Portelli of ATAC Global had the privilege of participating in the ninth annual Ride to the Flags in Malibu, California. An event put together by Ryan Sawtelle, the CEO of the Whiteheart Foundation, this annual event, began at Naval Base Ventura in Oxnard, California with a gathering of 700 to possibly 1000 motorcyclists. The event kicked off with a few words from Ryan about the foundation with a few injections from some local celebrities followed by the Heroes of the event, who were recognized on stage. The timeline of events were continued with a brief from the Commanding Officer of Naval Base Ventura who addressed the enthusiastic crowd with a 9/11 tribute complete with flyover and wreath lying. Once the hour long ceremony was finished, the roar of hundreds of bikes echoed through the air as the mass of engines began to roll towards Pacific Coast Highway. The ride was led by a multi-car police escort traveling south along the coast, with bystanders waving flags and cheering on the endless line of riders. Just under 30 miles the ride concluded at Malibu Bluffs Park where riders and attendees were greeted by hundreds of American flags, a live band (PettyCash), vendors selling everything from beer and wine to custom motorcycle upholstery and food trucks to keep the crowd satiated.
The Foundation
The Whiteheart Foundation was set up to honor veterans by creating a web page were donors can choose and donate to the veteran they support. The great thing about this organization is that 100 cents of every dollar goes to the veteran, a feat that very few veteran charities can accomplish. The funds are allocated to provide services, products and assistance to the Vets.
Ever year the Whiteheart foundation honors a specific veteran for The Ride to the Flags. This year's honorary veteran was Cpl. Caleb Getscher, a marine who was catastrophically disabled while on deployment overseas. Last year, Jeb Morgan, also a marine who lost both of his legs in Afghanistan, was the recognized veteran. There really was no better way to spend 9/11. In the company of true American Heroes surrounded by patriots all supporting a great cause. See you next year.