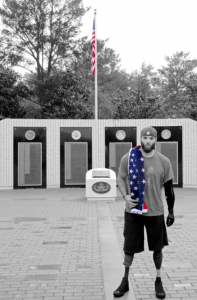 In 2011 Andrew Bottrell worked as a U.S. Navy Explosive Ordnance Disposal Technician with Seal Team 10 in Zabul province Afghanistan. EOD 1 Bottrell sustained injuries to three limbs entailing the loss of his right leg below the knee, left leg above the knee, and left arm through the elbow. After more than 9 years of service EOD 1 Bottrell is retired in San Diego and is giving back.
To hear Bottrell tell it, he and his family received incredible support from the EOD Warrior Foundation and he felt strongly about wanting to raise awareness and money for the organization. He came up with the idea to custom build a rifle himself to raffle off as a way to give back to EOD Warrior Foundation.
"I realized that I knew a lot of people in the shooting industry that would like to support something like this and that I could pull them all together to build a pretty sweet rifle," he continues, "at that point I made up my mind to do it," Bottrell said.
Bottrell worked to obtain donated parts worth more than $4,300. Sponsors include:
Aero Precision – Upper and lower receiver and handguard
Blowndeadline – Custom Cerakote coating
Lantac – Muzzle brake
Leupold – VX-6 1-6x24mm (30mm) MultiGun CDS and IMS mount
Luth AR – Luth MBA-3 stock
Patriot Ordinance Factory – EFP 2 trigger, Tomahawk charging handle
Point One USA LLC [EOD training company] – JP Silent Captured Buffer, Custom Fit Hard Case, Lower Parts Kit, Custom Cerakote Job.
Proof Research – 16-inch barrel chambered in 5.56
SLR Rifleworks – SLR Sentry 7 Titanium Adjustable Gas Block
Tactical Shit – Voodoo Innovations bolt carrier group
Once he had all the parts Bottrell put to the task of assembly. EOD Techs are renowned for their skilled used of hands and calm determination. For Bottrell a prosthetic hand was simply a challenge to work around.
"Building a rifle with one good hand and one prosthetic hand is a bit of a challenge," he explains, "I had to come up with new ways to put things together but I'm proud to say that I can assemble a rifle completely by myself."
This rifle is not available for purchase. Make your donation to the EOD Warrior Foundation to earn a chance to win the EOD Warrior Foundation-Andrew Bottrell custom rifle by clicking on this link HERE