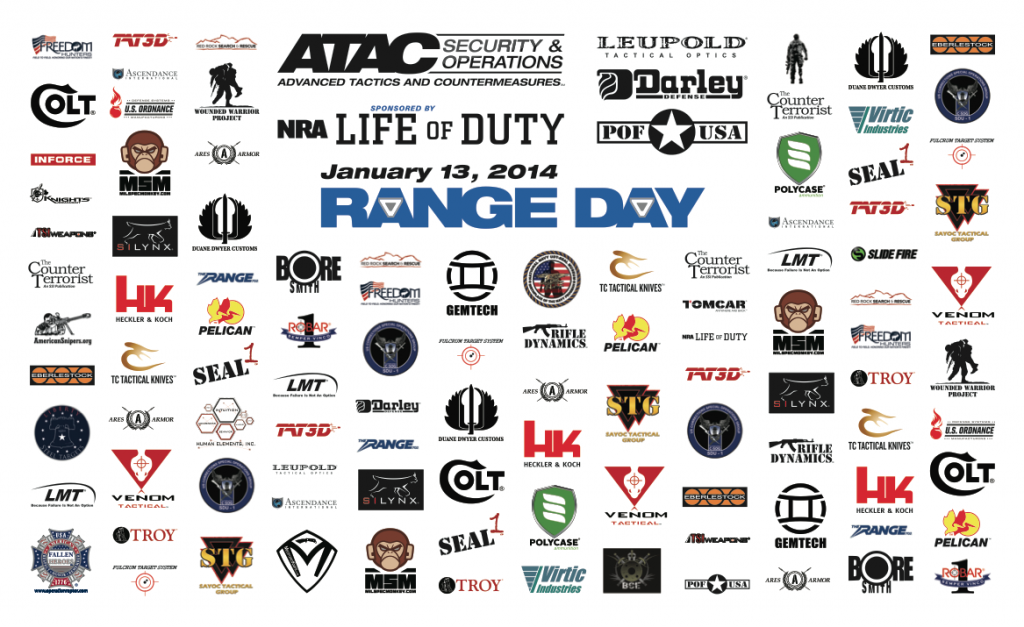 About: The ATAC Range Day® 2014 Military, Contractors, and LEO, sponsored by the NRA "Life of Duty" Range Day is RESTRICTED event. Providing a range environment for manufacturers, distributors, retailers and others to demonstrated and converse (face time) with end users. Showcasing products and services for unit, department or company purchasing. Also a great time the gathering information/feedback from the end users to assist in product development, testing and general feedback.
Admission to the ATAC Range Day® requires documentation of a purchased ticket. Government issued photo identification plus documentation demonstrating trade affiliation.
Event Date: Monday 13 January 2014
Event Time: Start time 1000hours – 1600hrs PST
Event Location: Gun Range
Exhibitors Private Range Bays 13th.
MUST RSVP no latter than: 31 November 2013. Price increase on December 1st. *Locations are on first come first serve basis.
Exhibitors Please ONLY register your company name and email the name(s) of your personnel / staff that will be attending to: Events@atactv.com
Ammo, Firearm shipping and receiving Exhibitor Memo will be sent to all registered companies on December 9th 2014 via: E-Mail.
Exhibitors Private Range Bays 14th – 17th.
New this year, exhibitors can reserve a private range bay during the convention Tues (14th – 17th) please send request to Events@atactv.com
Exhibitors that wish to reserve a ATAC Private Range bay during the convention starting on Tuesday 14th – Friday 17th, please send us an e-mail to: RangeDay@ATACGlobal.com or just reply to this e-mail. Subject Line: Reserve ATAC Private Range.
The range bays will be on a first come first serve basis.
Range Setup Information: Range setup will begin on Sunday, January 12th at 1200 (12:00pm) and will end at sunset and will restart at 0600 (6:00am) on Monday, January 13th. If prior setup is required, contact us to coordinate the specific setup needs and times. We will have assigned locations for each registered exhibitors, manufacturer and dealer to set up their range location. All may and are encouraged to bring some kind of sign that will identify the company being represented at their specific location on the range. Tables and chairs will be available, along with other logistical needs however they will be limited in numbers. Exhibitors, Manufacturers and Dealers are encouraged to bring their own table, chairs and marketing material if possible.
Exhibitors, Manufacturers and Dealers: Gate opens at 0600 (6:00am) on 13 Monday, January 2014 to sign in, set up and other administrative duties. Guests will arrive at 0900 (9:00am). This will allow enough time for everyone to be prepared for the guests. Please remember to bring all necessary BATF forms and documentation.
Military, Contractor and Law Enforcement: Free admission and sign up will take place the last week in September, we will keep you posted through e-mail.
Media Credentialing: Please provide previous media credentialing at an established company validated by record of print, broadcast, cable or web-based coverage military, contractor, law enforcement and maritime. Media coverage of the ATAC Range day is strictly enforced to protect the people in the attendance. While some may think it is harmless to take a photo at a vendors booth, it can be harmful to those in the back drop who do not wish to be in photos. To protect and respect the integrity of the people in attendance, these rules will be strictly enforced. Please read more here: Media Credentialing
Media Credential Application Form Here: Media Credential Application
ATAC Range Day Rules: ATAC Range Day Policies can be viewed here
ATAC Range Day Policies can be viewed here ATAC Range Day Frequently Asked Questions Here For any additional questions please contact: RangeDay@ATACGlobal.com
Wounded Warriors NAVY SEAL Museum American Snipers.org RougeCorps.org