By Tom Clarke
Recent reports from Athens indicate the 6,500-ton Marshall Islands-flagged oil products tanker MT ALTHEA was attacked by Nigerian armed pirates.  The oil cargo remains untouched and the vessel released but the Nigerian pirates kidnapped two hostages, a Ukrainian captain and a Greek engineer.  The ship's manager, Piraeus-based Medtankers Management, confirmed the attack.
The ship was attacked late on Monday around 35 nautical miles off the oil-producing Niger Delta coastline, a Nigerian security source said. The armed pirates fled with the two hostages in a speedboat, the source said.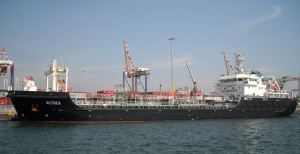 This attack is similar to the attack this past October on the supply vessel C-RETRIEVER, where two U.S. sailors, a captain and chief engineer, were taken hostage in an attack off the coast of Nigeria coast near oil rigs. Witnesses to that incident noted the crew was separated by nationality and U.S. sailors aboard the vessel ultimately were selected for kidnapping.
If the ALTHEA attack indicates a pattern by Nigeria pirates, the pirates are specifically motivated to kidnap human targets with the goal of obtaining ransom.  Where Somali pirates tend to hijack entire vessels and crews, Nigeria Armed Pirates use a more precise strategy. As a result it becomes difficult for ship owners and operators to ignore incidents.
Statistics from monitoring agencies note that piracy off the coast of Nigeria has increased by a third this past year. In June of this year the number of attacks off of Nigeria surpassed those off the Somali coast. Nigeria, its coast, and the oil rigs in the region are a growth sector for piracy. Parties with assets in the region need to seriously evaluate the defensive measures they employ.