PMSC Maritime Security Training Courses
ATAC Collaborative Approach: Start providing your own internal PMSC Maritime Security Personnel and Teams.

We are pleased to announce a collaborative working approach to help shipping companies and Oil Rig Platforms wanting to develop their own internal certified maritime security force. The relationship will marry ATAC's experience of the maritime security industry with up to date methodologies and current operational experience in a management system for maritime security team development.  With the increasing threat to commercial shipping globally, there continues to be a need for qualified PMSCs teams.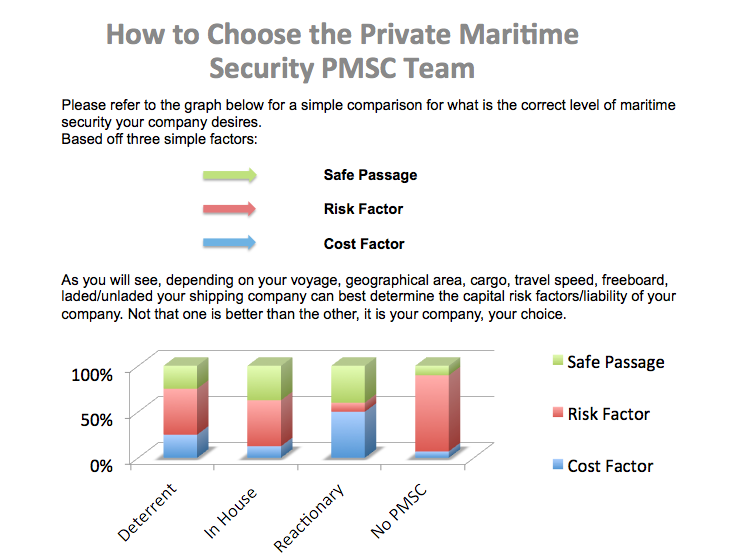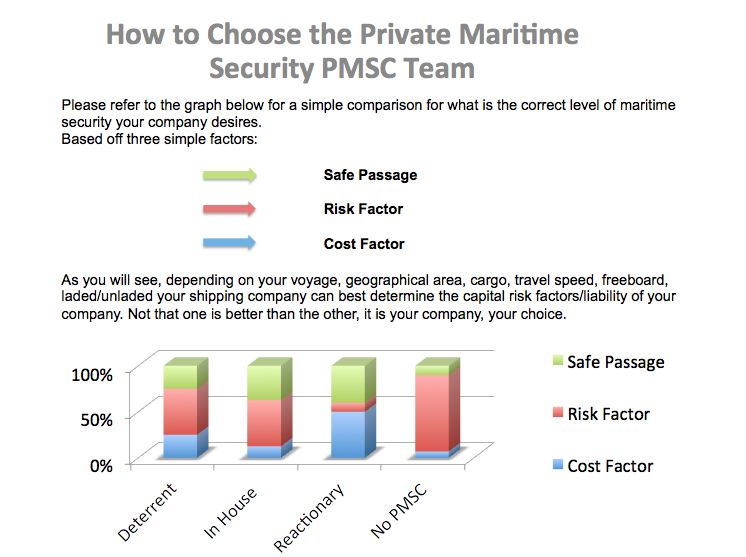 ATAC will help our clients both domestically and internationally stay ahead of this need. Using our own Private Maritime Security Contractors (PMSC) or a more cost effective route we can assist in building your own team. Don't get us wrong, we have the teams to provide you with a capable reactionary force, however, at the same time we understand that you may only need to have a basic deterrent level force.
Expected day rates your company can expect to pay for hiring and outside PMSC Maritime Security Team.
Basic Deterrent PMSC Level:
Basic Level of PMSC Security day rates start as lower, depending on the provider. Keep in mind, this is the most basic level of security suggested for deterrent methods only. If the attempted piracy of your vessel is a  motivated and dedicated threat, then you must employ a higher qualified team. Please keep in mind, most often this basic deterrent level is adequate, but they do not have the needed skill-set that your safe passage and survival could be dependent on in the worse case scenario.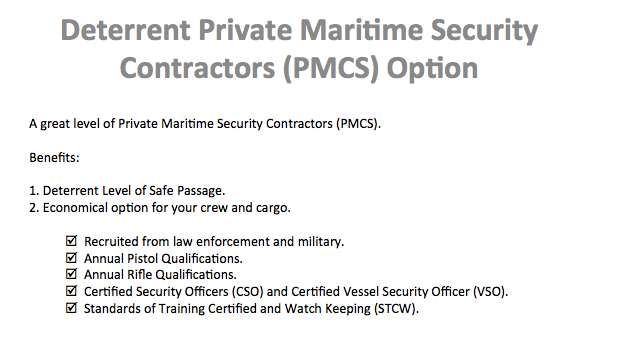 Reactionary Force PMSC Level:
Realistic Level of PMSC Security day rates are a higher rate, however this is what it will cost for a qualified PMSC team if the Use of Force escalates to a conflict or even worse a hostage situation. Keep in mind, today's pirates are well armed and not backing down from basic deterrent PMSC crews. Pirates are heavily armed and in most cases will be traveling with more than once skiff. It is not realistic for a basic level PMSC team to prevail if the threat is overwhelming. If your voyage is going through high threat waters, then this should be your only option.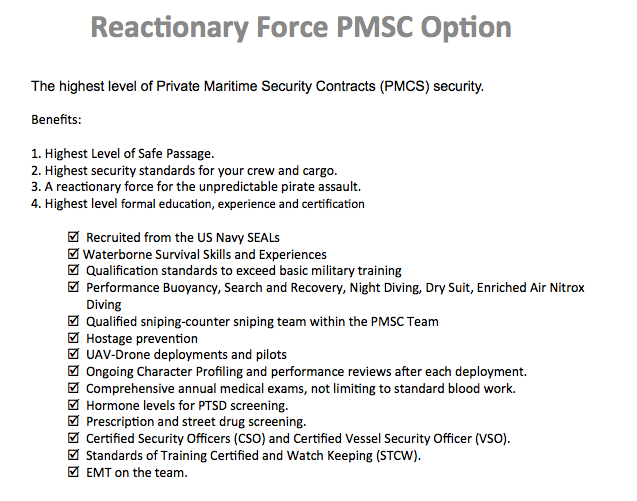 Benefits of having your own team:
Drastically reduce company overhead providing your own internal PMSC Maritime Security.
ATAC PMSC team development can train your own PMSC team.
Your company's security can be scaled to fit your needs and budget.
Your Internal Security Force can also be advanced at anytime by expanding their skill set in specialized areas. ie: UAV-Drones, Counter Sniping Teams, Medics etc.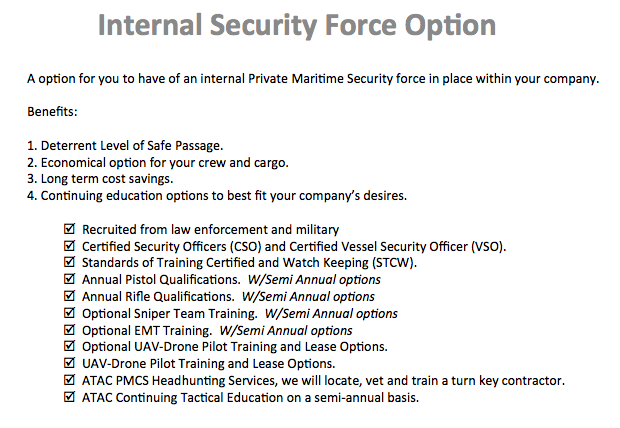 ATAC provides all the training courses needed to qualify and certify your in house PMSC team. Training your own Basic Deterrent PMSC team in the following:
ATAC provides the vetted for "head hunting" prior military personnel to be recruited for your direct employment. Taking zero time and efforts from your company, which equals a higher savings and increased company profit margins.
Onsite training at our facilities or at your head quarters.
To learn more about ATAC firearm onsite training courses click here
To learn more about ATAC firearm e-learning training courses click here
ATAC Continuing Tactical Education (CTE Credits) on a semi-annual basis.
ATAC provides the semi and/or annual qualifications.
Note: In most cases, since our vetting policy is to pull only from prior military service. The training that is required is annual pistol and rifle qualifications.
As you can see, there are a few options to best fit your company's needs. Each option has it's benefits.
Deterrent Team
Internal Team
Reactionary Force Team
Contact us to discuss you best options for the safety of your vessel's crew, cargo and cost factors.