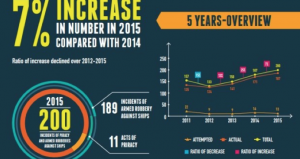 Preliminary reports from the International Chamber of Commerce (ICC), whose Commercial Crime Services division monitors worldwide maritime piracy, indicates reported piracy incidents are more or less holding steady.
From the infographic contained in this post we see that attacks against ships have climbed over the past four years. According the ICC, in 2016 reported attacks totaled 184 incidents.
Error is naturally built in to these numbers for vessels that did not report or did not report to ICC.
Depending on region, pirate attacks can still be lethal. The west coast of Africa and Gulf of Guinea give security-minded personnel the most agitation not only because governments are often times complicit in what is essentially sanctioned robbery.
The other aspect of Gulf of Guinea piracy is that vessels operating in these waters are not large enough profit centers to justify full-fledged armed security teams such as those employed by merchant cargo vessels on the high seas.